Biography of Mohammed Boudiaf
Mohamed Boudiaf ( in arabic  : محمد بوضياف), Born in M'Sila on June 23, 1919 and assassinated on June 29, 1992 in Annaba, is an Algerian statesman. He ruled Algeria from January 16, 1992 to June 29, 1992.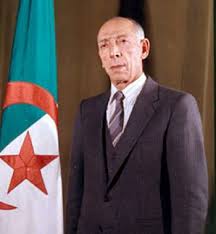 Civil servant by profession, founding member of the National Liberation Front (NLF), one of the leaders of the Algerian war of independence and member of the Provisional Government of the Algerian Republic (PGAR), in the position of Minister of State from 1958 to 1961 and then Vice President until 1962, he entered into opposition to the first regimes put in place at the independence of his country, and went into exile for nearly 28 years in Morocco. Recalled to Algeria in 1992 in the midst of a political crisis, as President of the High State Committee, the body in charge of the provisional management of the State, from January 16, 1992 until his assassination during a conference of executives in Annaba on June 29, 1992.