The University of Science and Technology of Oran Mohamed Boudiaf USTOMB was created in 1971. It was designed by the famous Japanese architect Kenzo TANGE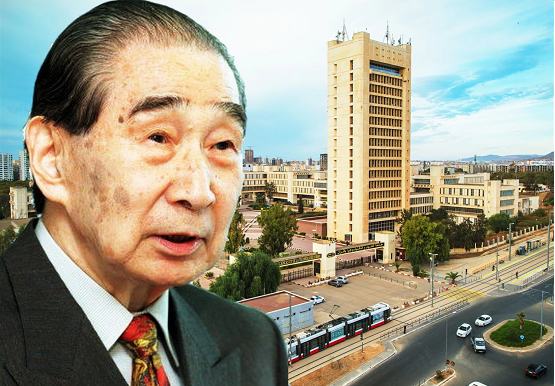 The USTO-MB is established on 02 sites, IGCMO and the main campus of Bir El Djir which covers an area of over 100 hectares.
The USTO-MB shares many of the characteristics of universities around the world. It is one of the largest training and technological research institutions in Algeria. The administration and the faculties support the smooth running of the University and contribute to its development and success both nationally and internationally. The USTO-MB offers a training system of the type Bachelor, Master and Doctorate (BMD) in accordance with the Bologna process which was adopted by our institution in 2004. The University is composed of seven faculties, namely: Chemistry, Physics, Mathematics and Computer Science, Natural and Life Sciences (Biology and Biotechnology), Architecture and Civil Engineering, Electrical Engineering, Mechanical Engineering, and an Institute of Sport.
There are currently about 26,000 students enrolled, 900 administrative staff supporting the central academic body and 1000  professors (performing academic and research tasks).
USTO-MB offers 24 specialties in different fields of technology for graduate studies and 44 for post-graduate. It offers a panel of 62 courses in Bachelor's degree and 78 in Master's degree in all fields of technology. 35 accredited laboratories are used for research.
This is how the USTO-MB offers:
A quality education for students who are poised to meet ever-increasing needs and employability opportunities of the 21st century in the field of engineering, science of technology.
The best context for excellence in education
A global training experience, in the new European system "BMD Bachelor (Undergraduate) Master-Doctorate" in application since September 2004 A vocation towards excellence research
Research that focuses on global human, economic and social issues.
The organization of an average of 8 to 10 international scientific events in various scientific fields.
The USTO-MB has modern and suitably equipped premises, equipment and means of communication (internet, WebEls platform for video-conferences). The USTO-MB also continues to work to improve the quality of life of its staff and students by developing and investing in the construction of new buildings and other facilities.
Externally, USTO-MB has signed several framework agreements, memoranda of understanding, conventions with national partners and institutions but also with about 40 universities around the world.
Due to the relations that our country has with friendly governments, some 250 foreign students pursue their studies in our institution, most of them coming from African countries.
Finally, the USTO is a partner in several international projects, with France (Tassili, CNRS, etc.. Finally, the USTO is a partner in several international projects, with France (Tassili, CNRS, etc.), Spain (PIC programs), Japan (Sahara Solar Breeder on solar energy), Capacity Building programs such as Tempus ("Signes" for the implementation of a digital information system of Algerian higher education institutions), European Erasmus Mundus mobility programs (Al Idrisi 1 and 2, Mare Nostrum), and other Euro-Mediterranean networks (AUF, Averroes, UNIMED, JaNAUS between Japanese and North African universities).
The common services of the university are
Center for intensive language teaching C.E.I.L,
Printing and audio-visual center C.I.A.V,
Center for information and communication systems and networks, distance learning and distance education CSRICTED,
Hall of Technology